Cameroon's Ajara Nchout hopes to use football to inspire young female refugees fleeing from Islamist insurgents.
On World Refugee Day, exactly a month before the start of the Women's World Cup, the Inter Milan striker spoke about a trip to a refugee camp in Minawao in the far north of her home country near the border with Nigeria.
There, Nchout told BBC Newsday she found families already adjusting to a different kind of life – and urged them to allow their daughters to play football.
"If your baby wants to play football you need to let her play football," said the 30-year-old who has scored eight goals in 20 starts for her country.
"Some Muslim people don't want women to play football but they can be a legend tomorrow. In life, we don't know what can happen tomorrow.
"For me, it was a very good thing to go there to talk to them."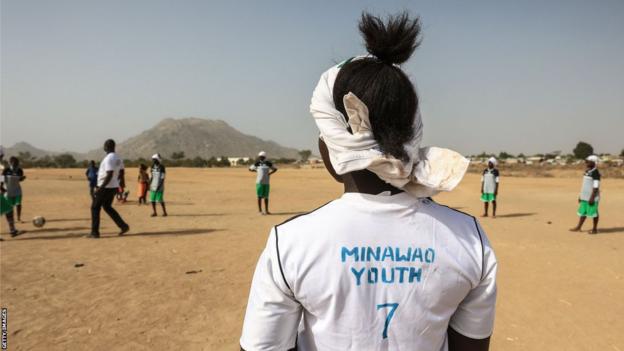 The camp in Minawao opened in 2013 to help those fleeing attacks by Boko Haram insurgents in Nigeria.
Initially built to house 10,000 people, it currently accommodates 60,000.
"Some of them talk about their life and how difficult it is to live there," said Nchout, who has taken on her new role in association with the United Nations High Commissioner for Refugees (UNHCR).
Born in Foumban, close to the Nigerian border, the issue is close to her heart.
"I grew up in a family of four [children] and every time I have something to give to people it is a very big pleasure to give to them," she said.
"That is why I was very engaged with this job with the UNHCR.
"I want to help people, I want to make people happy. That's why I take my courage and do this job."
Nchout joined Inter Milan in 2022 from Atletico Madrid after spells in the USA, Sweden and Norway.
Her hopes of appearing at a third consecutive World Cup were ended when Cameroon failed to qualify for this year's tournament in Australia and New Zealand, despite Nchout scoring the Indominable Lionesses' goal in their 2-1 play-off final defeat in the qualifiers against Portugal in February.
She has decided to dedicate her time to charity instead, playing in a gala match with female refugees in the Cameroonian capital, Yaounde.
"Football is a very big job and makes everyone come together," said Nchout. "Because of my job, I can make many people happy. Most of them look at me on the TV.
"I want to understand the situation and how they came from Nigeria to Cameroon, if they're happy to be here. Also, I want to let them know that Cameroon is their country, so they need to live like they're in Nigeria.
"Every time when we play against Nigeria it's a big pleasure. I tell Cameroon people to help them adapt because it's not easy.
"Nigeria is like Cameroon – we are the friend. That is why I said I want to show them they're home."