President Paul Kagame said that the positive use of Artificial Intelligence (AI) can increase the productivity of industries in developing economies and make them competitive on the global market.
He was speaking at the G77 + China Summit of Heads of State and Government themed "Current Development Challenges: Role of Science, Technology, and Innovation" in Havana, Cuba, on September 15.
The two-day summit brings together Heads of State and Government and other representatives from over 100 countries, as well as leaders of multilateral organisations, to establish practical actions to address core developmental challenges and disparities between developed and developing countries, encouraging South-South cooperation to achieve collective goals.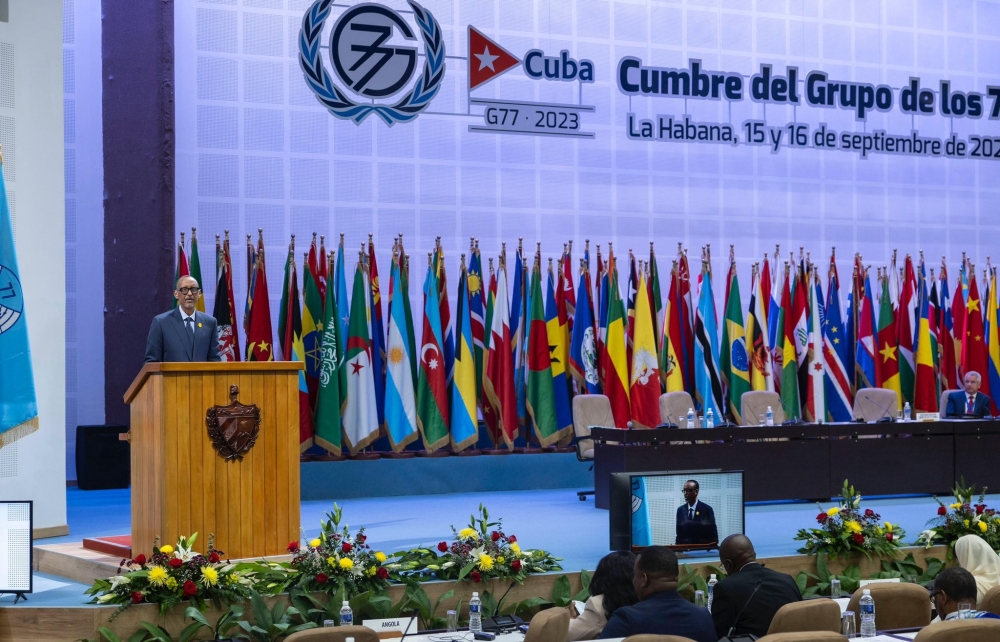 "South-to-South cooperation can mean different things. But in our context, it should be about changing the narrative that developing countries cannot be part of global solutions, for ourselves and the whole world," Kagame said.
Beyond science and technology, he added: "We have a lot to offer the world, including in the field of energy, agriculture, and peace and security. This wealth of knowledge and expertise, we also need to share among ourselves."
This, he emphasized, can even be shown by the fact that the group represents more than 80 percent of the world's population, giving a comparative advantage that can be leveraged to fulfill the promise of building a brighter future for the people.
The Head of State pointed to the fast pace at which science and technology are evolving, buoyed by AI. The world is in the beginning phases of putting in place a comprehensive framework to regulate it.
"Left unchecked, there is no doubt that AI can have drastic consequences on safety and privacy, more so in the developing world. Nevertheless, we have to search for the silver lining. In developing countries, artificial intelligence can increase the productivity of industries and make them competitive in global market, the impact on our economies will be positive."
He said that while science and technology have the power to unite people and transform the future for the better, access to the latest technology is not universal, and in poor countries, it negatively affects the response to emergencies.
"The concentration of technological development in rich countries also encourages brain drain. In Rwanda, we have focused investments in digital skills, technology and data governance frameworks…as informed by the need to close the gap of imbalances in human capital development between rich and poor countries."
"We believe these imbalances to be the root cause of the migration crisis which, unfortunately, continue to break families apart," Kagame added.
He pointed out that the private sector is a key partner for Rwanda in biotechnology including vaccine manufacturing and science technological research institutions.
The Group of 77 was established in June 1964 by 77 developing countries at the end of the first session of the United Nations Conference on Trade and Development (UNCTAD) in Geneva.
Today, the organisation is made up of 134 developing countries, working together to define means for countries of the Global South to articulate and promote their collective economic interests and enhance their joint negotiating capacity on all major international economic issues.