The band's manager had earlier said Harwell was in the final stages of liver failure and was receiving end of life care at his home.
In a statement, Robert Hayes said Harwell died at his home in Idaho, "surrounded by family and friends".
Smash Mouth had a string of hits in the 1990s and 2000s with All Star, Walkin' on the Sun and I'm a Believer.
Hayes added that "Steve lived a 100% full-throttle life. Burning brightly across the universe before burning out".
Harwell retired from the band in 2021 over physical and mental health issues.
The musician, who struggled with alcoholism, was diagnosed with the heart ailment cardiomyopathy in 2013; and subsequently a neurological condition which affected his memory and speech.
But his final decision to leave Smash Mouth came after he appeared intoxicated at a performance in upstate New York, where he was filmed slurring his words and yelling at the audience.
Smash Mouth's long-time manager Robert Hayes confirmed to US media on 3 September that the singer did not have long to live, and was being cared for by his fiancée and hospice care.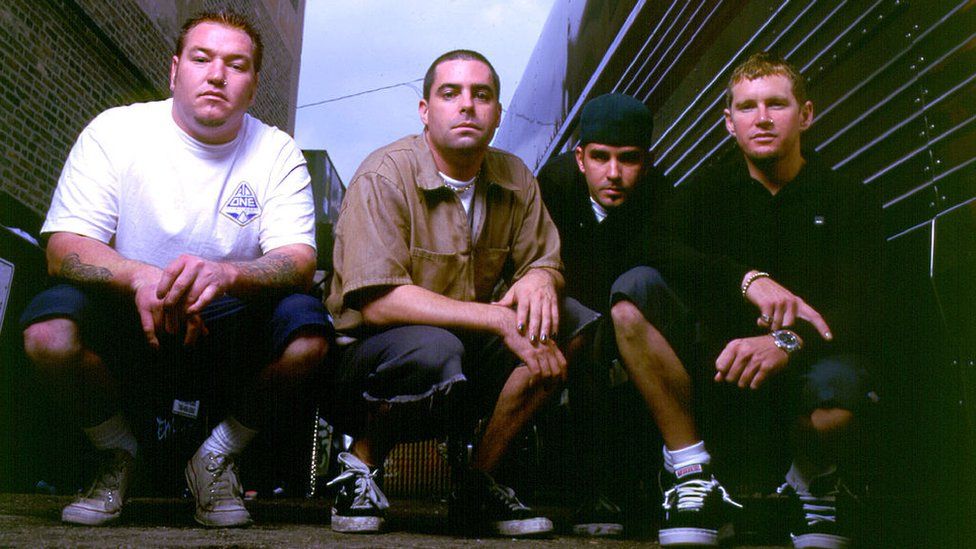 Born in California in 1967, Harwell started his musical career in the rap group, F.O.S. (Freedom of Speech), who based their sound on the sample-heavy beats of Chuck D and Public Enemy.
Although they picked up local radio support for their debut single Big Black Boots, Harwell called time on the band when he heard Dr Dre and Snoop Dogg's game-changing work on The Chronic, and intuited that the sound of rap was about to change.
Taking a detour into alternative rock, he began jamming with his old friend, the drummer Kevin Coleman, and later formed Smash Mouth alongside Greg Camp and Paul De Lisle.
Their fusion of pop, ska, surf and punk, along with retro vibes from the 60s, generated an early hit in the shape of Walkin' On The Sun, which topped Billboard's modern rock charts, and helped their debut album Fush Yu Mang enter the Top 40.
Some critics wrote the band off as a one-hit wonder, but Smash Mouth proved them wrong with their second album Astro Lounge in 1999.
It went triple platinum and included the hits Can't Get Enough of You Baby and the incredibly catchy All Star – a song which Rolling Stone magazine said "inexplicably mesmerized the world for 20 years".
Harwell preferred the second album to the band's debut: "The songs are more spread out, less fast and furious", he told the magazine in 1999.
His distinctive, raspy rap-singing voice was instantly recognisable and several of Smash Mouth's songs became viral sensations.
All Star, which was written by Camp, had the longest afterlife of them all.
It became a hit a second time round after featuring in the original Shrek movie (with the band also covering The Monkees' I'm A Believer for the closing credits), and spawned dozens of memes – including a Mario parody, and a TikTok trend that syncs up Harwell's opening lyrics with videos of people meeting various misfortunes.
"At first it was weird, and we were a bit guarded and resistant," Harwell said of the song's online popularity, in a 2017 interview with Polygon.
"But as we dove into it more and focused on it we started 'getting it.' Plus, to be honest, it has really spiked the sales [of the song]."
Although the band never scored another hit on the same scale, subsequent albums Smash Mouth (2001), Get the Picture? (2003), Summer Girl (2006) and Magic (2012) displayed a continued knack for sparkling pop melodies.
Harwell suffered a personal tragedy in 2001 when his new-born son Presley died from complications from acute lymphocytic leukaemia. The musician reportedly helped to set up a medical research fund in his son's name.
Ten years later, Harwell raised $15,000 for a children's hospital after accepting a dare to eat 24 eggs.
However, his own poor health and reported alcohol abuse affected several performances throughout the years.
In 2016, he collapsed on stage at a music festival in Illinois. The following year a show in Memphis was cancelled after he had trouble breathing during the soundcheck. And in 2018 he became ill mid-show in Australia and had to leave the stage – the band carried on without him.
The year 2020 saw him dismiss the seriousness of Covid-19 to a packed crowd at a motorbike rally in South Dakota. The rally was later declared a superspreader event by the National Institute of Health, and Smash Mouth said they received hate mail for performing there.
The same year his fiancée at the time, Esther Campbell, filed a restraining order against him, according to TMZ.
Announcing his retirement in 2021, Harwell said: "I've tried so hard to power through my physical and mental health issues, and to play in front of you one last time, but I just wasn't able to."
The band's manager's statement added: "Steve should be remembered for his unwavering focus and impassioned determination to reach the heights of pop stardom.
"And the fact that he achieved this near-impossible goal with very limited musical experience makes his accomplishments all the more remarkable.
"His only tools were his irrepressible charm and charisma, his fearlessly reckless ambition, and his king-size cajones.
"Good night Heevo Veev. Rest in peace knowing you aimed for the stars, and magically hit your target. He will be greatly missed by those who knew and loved him."
Smash Mouth's line-up has changed several times over the years – bassist Paul De Lisle is the only remaining original member – while Zach Goode took over as lead singer when Harwell retired.