President Paul Kagame has told opinion leaders from Northern and Western provinces to use their positions to inspire transformation in their communities, other than leading them into wrongdoing.
He was addressing over 700 opinion leaders from the two provinces at Rwanda Military Academy (RMA) in Musanze District on Friday August 25.
The meeting was dominated by discussions around recent cases of sectarianism that were found prevalent in the region.
Kagame called out the leaders for doing nothing as such a deplorable culture was taking root.
Some local officials were even part of these schemes, he said.
Cases of divisionism in the region came to light recently following a sectarian ceremony that took place on July 9 in Kinigi Sector, Musanze District, which saw the installation of the so-called 'Abakono' clan chief.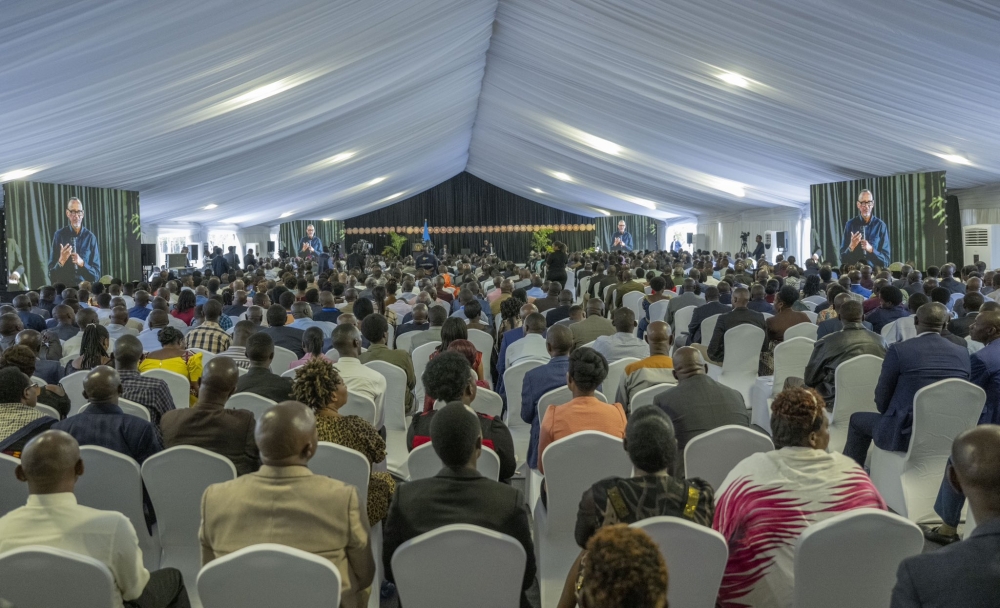 Over 700 opinion leaders from the two provinces meet President Kagame at Rwanda Military Academy (RMA) in Musanze District on Friday August 25.
The coronation event was attended by a cross-section of government officials, including national leaders, business executives, local leaders, and security officials.
Speaking publicly for the first time about the 'Abakono' case as well as findings of a subsequent probe that discovered widespread discrimination, Kagame wondered how such a situation could thrive without anyone raising an alarm.
He said that the investigation had established gross malpractices, including illegal awarding of tenders to businessman Justin Kazoza — the man who was installed as the leader of the 'Abakono' clan before he subsequently renounced the role.
"The investigation found even worse cases of divisionism in this region. We even have areas where sectarian groups have taken over from local governance structures. How did we get here?" Kagame wondered.
Gaudence Mukasano, the Executive Secretary of Kimonyi Sector in Musanze District, admitted that this was indeed a challenge.
She said that there are about 20 sectarian groups in her sector alone, adding that they are so powerful that you have to consult them before making any decision.
"We have powerful groups like Abateme, Abadogo, Abarimira, among others…local leaders cannot do anything they have not approved. They have literally taken over from local government structures," she said.
Kagame recalled the consequences of sectarianism, pointing out that no single family in Rwanda was spared of the impacts of the Genocide against the Tutsi, which was a culmination of divisionism.
"We have people who lost their family members, others who have family members who are perpetrators, everyone has suffered the consequences of division. The only solution to this is unity. We cannot accept to return to the destructive practice of sectarianism," he said.
He recalled the sacrifices that got the country where it is today, saying that some people paid with their blood, vowing to deal with anyone who undermined the hard won unity the country has since forged.
The President also noted that it's not enough not to participate in acts of division, adding that it is the duty of every Rwandan to report such tendencies.
Kagame said that while Musanze had registered development over the years, a lot more could have been achieved if people were united, adding that those practices could also be prevalent in other parts of the country.
Various leaders from the region who spoke at the meeting committed to denounce sectarianism, which they described as a deplorable and anti-development vice.