In a resolute effort to safeguard the nation's vital agriculture industry, the Rwandan government has launched a groundbreaking campaign to combat the menacing threat of fall armyworms.
The battle against fall armyworms jeopardising Agriculture Season A comes from a collaboration between the Rwanda Agriculture and Animal Resources Board (RAB), and various districts, in the country.
Fall armyworm, a destructive insect pest, poses a significant threat to over 80 crop species, including maize, rice, sorghum, and legumes.
With these voracious pests wreaking havoc on crops across the country, authorities are leaving no stone unturned in their determination to protect farmers and secure food security for all.
Interventions aimed at educating farmers on pest management have been launched in response to reports indicating the imminent threat of fall armyworms affecting the Agriculture Season A harvest.
Maize farmers nationwide have expressed concerns as the armyworms exhibit resistance to conventional pesticides.
The Twizamure Cyuve farmers' cooperative, cultivating maize on 75 hectares in the Cyuve sector, Musanze district, reports devastating attacks on their maize plantations.
"We planted Hybrid 628 maize seeds, and while the crops initially thrived, they were later attacked by armyworms during weeding. Leaves are damaged, and optimism for a good harvest is diminishing. We urgently need effective pesticides," Gloriose Nyirabariha, a distressed farmer said.
Musanze district has emerged as one of the severely affected areas, prompting a recent campaign covering 72 hectares in the wetland of Busogwesector, Nyanza district.
"We are concentrating on areas with minimal rainfall, distributing pesticides under subsidies," Patrick Kajyambere, the Vice Mayor in charge of economic development in Nyanza district, said
Athanase Hategekimana, a scientist spearheading crop disease and pest control at RAB, emphasises the importance of providing farmers with both subsidised fertilisers (urea) and pesticides and consolidating land.
"The battle against fall armyworms has commenced in Gicumbi, Nyanza, Nyagatare, Gicumbi, Burera, Rubavu, and Gisagara, with plans to extend to all districts," affirms Hategekimana.
Under the guidance of expert entomologists and agricultural specialists, an integrated approach has been devised to curb the armyworm invasion. The ingenious campaign comprises a multi-pronged strategy, incorporating both traditional and modern techniques to effectively counteract this devastating menace.
Push-Pull technology deployed against Armyworms
Hategekimana said they have introduced 'push-pull technology,' an integrated cropping system involving a repellent intercrop to drive pests away from the main crop.
"We are collaborating with the International Centre of Insect Physiology and Ecology-icipe to promote push-pull technique," says Hategekimana, highlighting its successful trials in Nyanze, Gatsibo, Nyagatare, Gicumbi, Musanze, Ngororero, and Rubavu districts.
Biological Control Agents and GMO Seeds Considered
The government has previously explored biological control agents (parasitoids) to contain fall armyworms, collaborating with International Centre of Insect Physiology and Ecology (icipe) since December 2022.
RAB, in conjunction with Food for the Hungry, introduced this approach in Kamonyi, Muhanga, Ruhango, Gatsibo, Nyagatare, and Ngororero districts.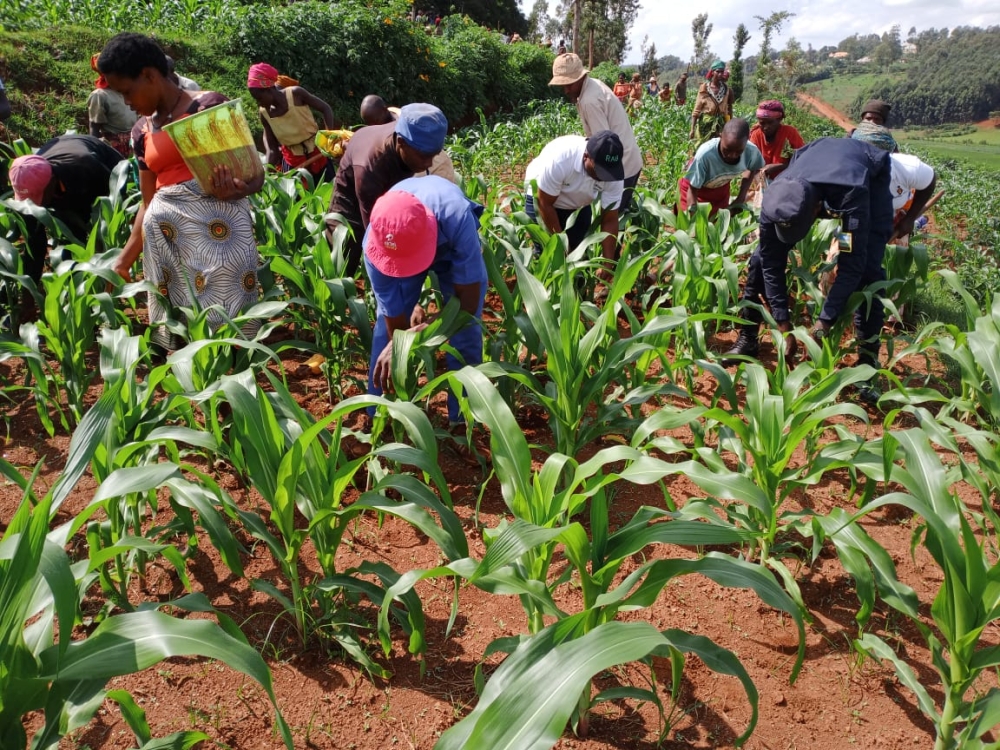 Farmers work in their maize plantations in Gisagara on November 10. Courtesy
These parasitoids, previously effective in Kenya and Tanzania, lay eggs into fall armyworms' eggs, hindering reproduction and averting crop damage.
RAB plans to multiply parasitoids in laboratories, conducting confined trials before widespread deployment.
Agricultural scientists are also advocating for genetically modified organism (GMO) seeds, exemplified by the Tela maize variety, designed to withstand drought, stemborer, and fall armyworm, promising enhanced crop immunity while ensuring safety for human consumption.