In a significant development to bolster Rwanda's dairy sector, the country has entered into a €23 million partnership with a leading Poland's Bank Gospodarstwa Krajowego (BGK) to purchase a state-of-the-art milk cooling system in a bid to improve milk storage and preserve its quality, ultimately benefiting local farmers and consumers alike.
The long-term loan will be used to purchase a milk cooling system from a Polish manufacturer, Faspol, after the export contract for the delivery of milk cooling installations with additional equipment and construction components is concluded between Faspol and the Rwanda Agriculture Board.
The delivery of nearly 400 installations to local milk collection points is intended to reduce milk losses due to improper storage, increase production capabilities, and increase access to dairy products.
With the implementation of this project, it could play a key role in the socio-economic development of the country, especially in a sector that has largely remained without value-added production.
Uzziel Ndagijimana, Minister of Finance and Economic Planning, said the agreement on credit financing holds a 12-year maturity with a grace period during the first three years.
"The agreement we are signing today is a testimony of the fast-growing bilateral cooperation between Rwanda and Poland. The two parties are exploring more opportunities for economic cooperation."
Marek Tomczuk, member of the management board at BGK, commended the quick turnaround in the negotiation process of this agreement, noting that Rwanda is the first African country to tap into the bank's financing facility.
Rwanda's dairy sector has immense potential for growth, with a rising demand for dairy products both locally and in the regional market. The installation of the state-of-the-art milk cooling system will not only meet current demands but also position the country for future expansion.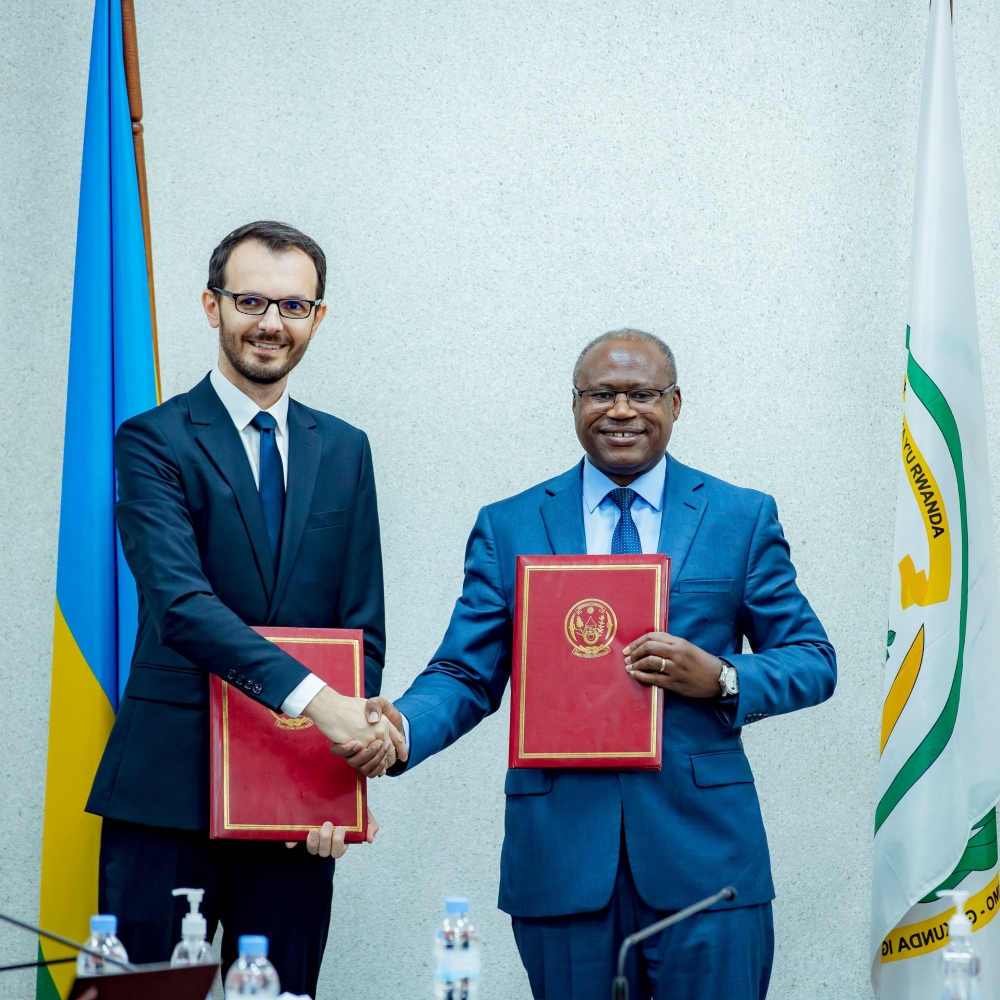 Uzziel Ndagijimana, Minister of Finance and Economic Planning and Marek Tomczuk, member of the management board, BGK, during the signing ceremony in Kigali on October 26. Courtesy
Besides the agriculture sector, he said the sovereign bank will continue to partner with both the public and private sectors in Rwanda. At the same time, it has already identified many sectors where Polish businesses might be involved such as infrastructure, IT, mining, food processing, education, and defence.
"This agreement will open a new chapter in cooperation between our countries and it should also be a trigger for other Polish companies to start doing business here."
The development will transform livelihoods, especially those involved in the livestock, in terms of accessing better markets at better prices in a more organised and safe way for their products, said Eric Rwigamba, State Minister for Agriculture and Animal Resources.
In December 2022, Rwanda vowed to increase milk production by 34 per cent in one way, Rwigamba said there has been minimal progress in achieving the target due to different factors that are currently being addressed.
Meanwhile, Inyange Industries Ltd., Rwanda's largest agro-processing firm, had previously announced the setting up of a milk powder factory with an estimated $45 million (approx. Rwf55.6 billion) investment. The production was supposed to start in May 2023.
The plant is expected to have the capacity to process 500,000 litres of milk in liquid form into 50,000 kilogrammes (50 tonnes) of milk powder a day — because 10 litres of liquid milk will be producing one kilogramme of milk powder. With that, its annual capacity will be around 15,000 tonnes of milk powder.