At least 79 people have died and more than 100 have been rescued after their fishing vessel capsized off the coast of southern Greece.
But Greek officials and the International Organization for Migration (IOM) say that hundreds more migrants may have been on board.
The shipwreck is the deadliest off Greece this year.
The boat went down about 50 miles (80 km) south-west of Pylos after the coastguard said it had refused help.
The coastguard said the boat had been spotted in international waters late on Tuesday by an aircraft belonging to EU border agency Frontex. No-one on board was wearing life jackets, it added.
A few hours later, the boat capsized and sank, triggering a search and rescue operation, which was then complicated by strong winds.
Alarm Phone, an emergency helpline for migrants in trouble at sea, said the Greek coastguard was "aware of the ship being in distress for hours before any help was sent", adding that authorities "had been informed by different sources" that the boat was in trouble.
It added that people may have been scared to encounter Greek authorities because they were aware of the country's "horrible and systematic pushback practices".
The boat was reportedly on route to Italy from Libya, with most of those on board believed to be men in their 20s.
Survivors spoke of as many as 500 to 700 people on board and regional health director Yiannis Karvelis warned of an unprecedented tragedy: "The number of the people on board was much higher than the capacity that should be allowed for this boat."
Coastguard Cpt Nikolaos Alexiou told public TV that his colleagues had seen people packed on to the deck and that the boat had sunk in one of the deepest parts of the Mediterranean.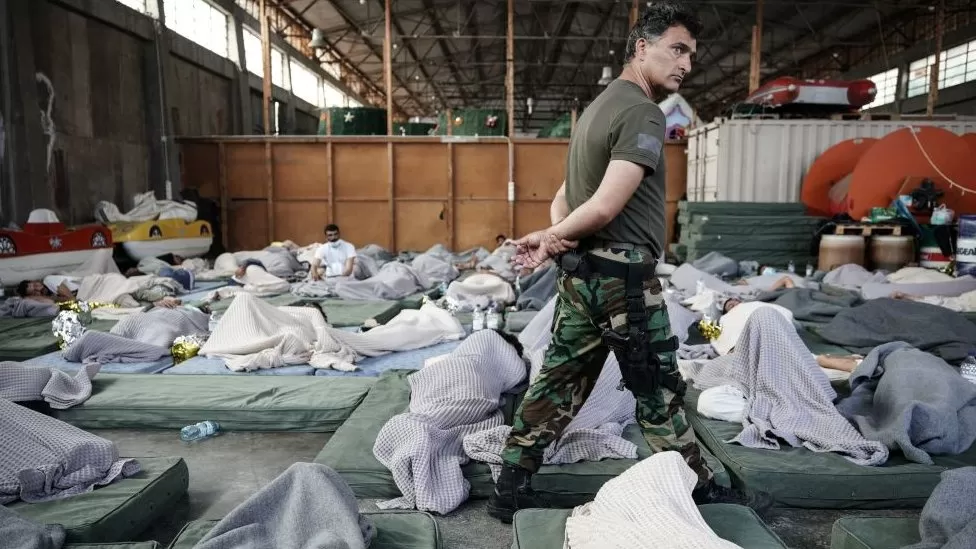 The nationalities of the victims have not yet been announced. Survivors have been taken to the town of Kalamata, and many were treated in hospital for hypothermia or minor injuries.
Greek President Katerina Sakellaropoulou visited some of those rescued and expressed her sorrow for those who had drowned.
The sinking took place ahead of Greek elections on 25 June and political leaders suspended campaigning. An election debate is due to take place on Thursday evening.
Greece is one of the main routes into the European Union for refugees and migrants from the Middle East, Asia and Africa.
Last month the Greek government came under international criticism over video footage reportedly showing the forceful expulsion of migrants who were set adrift at sea.
More than 70,000 refugees and migrants have arrived in Europe's frontline countries this year, with the majority landing in Italy, according to UN data.