Suspected serial killer in Rwanda Denis Kazungu is likely to face a community trial in the area where he allegedly robbed, assaulted, and killed women.
According to Antoine Mutsinzi, Kicukiro District's Executive Administrator (DEA), area residents made it clear to the authorities that they want the suspect tried from Gishikiri Village where he resided in a secluded house.
The village is located in Busanza Cell in Kanombe Sector, Kicukiro District.
"We have had an experience before where another suspected murderer was tried in the community in Kanombe Sector. I think we will ask for the same in Kazungu's case. Community trials are something that is allowed in the law," Mutsinzi told The New Times.
Kazungu's rental house in Gishikiri village, Kanombe sector, Kicukiro district. Citizens want him to be tried in the area. Photos by Olivier Mugwiza
Kazungu, 34, is suspected of having killed and buried several young women in his rented residence.
Boniface Twahirwa, one of the village residents, said: "What we request as citizens is that he be brought before the citizens so that they question and accuse him in line with what they saw."
Jean Bavugirije, another area resident, said: "If possible, they should bring him to the village meeting so that it is us who will condemn him because it is us that he betrayed. Can you imagine someone doing these atrocities within our area?"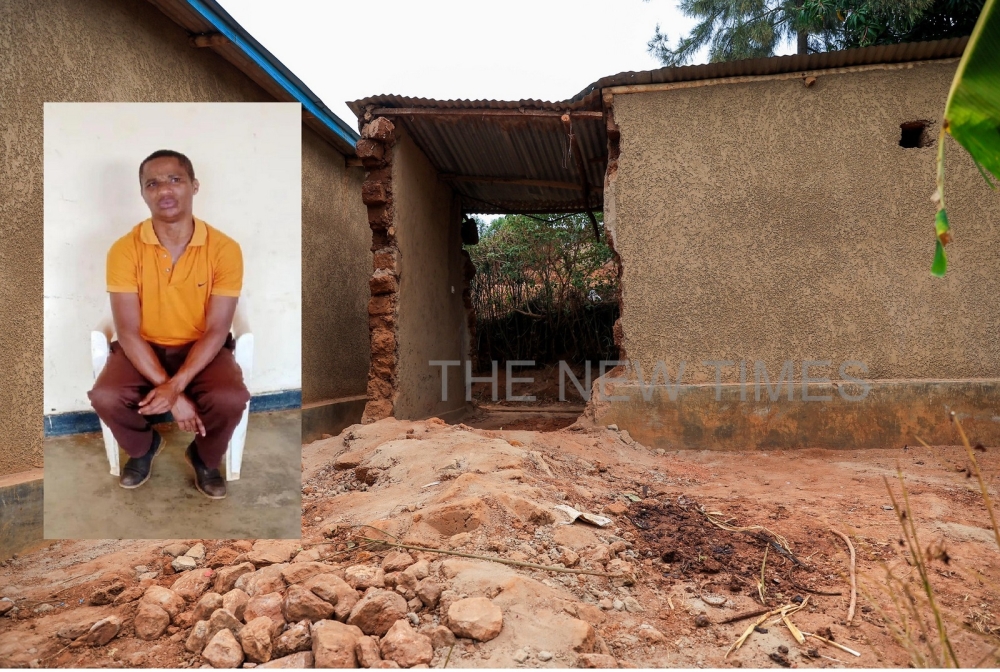 In order to pave ways for exhuming victims, some houses were demolished at the scene of crime in Kicukiro
It is understood that the ongoing probe will include efforts to trace Kazungu's previous places of residence to determine whether he may have committed similar crimes elsewhere.
Among the locations where he is believed to have lived is in Gasabo district, with sources indicating that he was once a tenant in an apartment in an area commonly known as Kwa Rwahama in the Kimironko neighbourhood of Kigali.